Falling Short: Why Long/Short Strategies Need a More Flexible Approach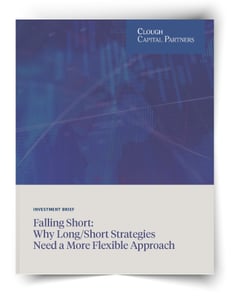 Complete the form on this page to download the brief.
Traditionally, long/short managers have touted shorting as an additional lever to add alpha, and an effective equity hedge to boot. But current market dynamics beg a simple question: What if the investment environment isn't conducive to shorting?
In this investment brief, we review some of the current market constructs that work against shorting and share how our own portfolio construction process has evolved to address them.
Although not generally stated throughout, the views described herein reflect the opinion of Clough Capital Partners L.P. ("CCP"), which opinion is subject to change and none of CCP, its affiliates or any funds or products they manage shall have any obligation to inform you of any such changes.
Nothing contained herein constitutes investment, legal, tax, accounting, financial or other advice nor should be relied upon in making an investment or other decision. Nothing herein should be considered an offer to sell, nor a solicitation of an offer to buy, any security in any fund managed or sponsored by CCP or any of its affiliates, or any other investment product or security. Offers to sell or solicitations to invest in any funds may be made only by means of a prospectus or a confidential offering memorandum, and only in accordance with applicable securities laws. Investing involves risk, including the risk that the entire amount invested may be lost. Investors should consider the investment objective, risks, charges and expenses of any investment product carefully before investing and should consult their own professional advisors prior to making any investment decision.
None of CCP, its affiliates nor any funds or products that they manage or sponsor makes any representation or warranty, express or implied, as to the accuracy or completeness of the information contained herein and nothing contained herein shall be relied upon as a promise or representation as to past or future performance of any fund or product. Past performance is neither a guarantee, nor necessarily indicative, of future results, which may be significantly affected by changes in economic and other conditions.
Any outlooks or estimates contained herein, or any projections of future economic, financial or other conditions, are forward-looking statements and, as such, are subject to change without notice and should not be construed as indicative of any actual events that have occurred or may occur. No representations are made that any such forward-looking statements will prove to be accurate. There is a substantial likelihood that at least some, if not all, of the forward-looking statements included herein may prove to be inaccurate, possibly to a significant degree.